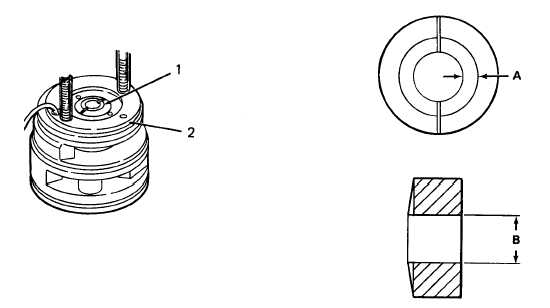 TM  55-2915-335-30&P
2-22.  PUMP-END  MOTOR  BEARING  -  lNSPECT/REPLACE
2-22
This task covers: Replacement of pump cartridge impeller housing motor bearing.
INITIAL SETUP
Tools:
Aircraft  Electrician's  Tool  Kit,  NSN  5180-00-323-4915
Bearing Installation Tool, Item 1, Appendix D
Pin Punch, Straight, 3/8 inch Dia.,
NSN 5120-00-273-0001
Reamer (Item 1, Appendix B, Sec. III)
Press, Arbor, Hand Operated, 1/2 Ton Pressure,
NSN  3444-00-243-2654,  or  equivalent
Drill Press, Bench Type, 1/2 inch capacity,
NSN  3413-00-529-0809,  or  equivalent
Plug  Gage,  Reversible,  Cylindrical  (Item  2,
Appendix B, Sec. III)
Material/Parts:
Dry Cleaning Solvent, NSN 6850-00-274-5421
Personnel
Required:
66-Series  Technical  Inspector
68D  Powertrain  Repairer
Equipment  Condition:
Brush holder assembly removed from impeller housing
PARA 2-20
Pump cover and inlet seal removed from impeller housing
PARA 2-21
1. INSPECTION
a.
b.
c.
Check pump-end bearing (1) in impeller housing (2) for cracks or chips. If bearing is cracked or chipped, re-
place  bearing.
With 6 inch (152,4 mm) scale measure width A of bearing thrust face. If thrust face is more than 1/16 inch
(1,60  mm),  replace  bearing.
Using plug gage (Item 2, Appendix B, Section III) check bearing bore diameter B. If 0.3145 NO GO gage
passes through bearing, replace bearing.
GO TO NEXT PAGE
2-76