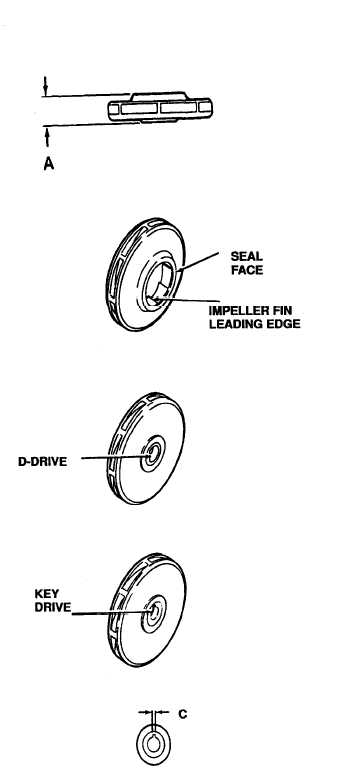 TM 55-2915-335-30&P
2-19.   lMPELLER-lNSPECT/REPAIR   (Cont)
2-19
2.  INSPECTION
a.
Use an outside caliper to inspect impeller height,
dimension A. If impeller height is less than 0.585
inch  (14,85  mm),  replace  impeller.
b. DELETE.
c.
Visually inspect leading edges of impeller fins.
Leading edges should be sharp. A small amount of
chipping on leading edges is acceptable. Replace
impeller if fin edges are blunt or damaged.
NOTE
If key-drive type impeller is being
inspected,  inspect  drive  boss  per  Step  e
below. Key-drive type impeller and
armature are obsolete. If key-drive type
impeller  is  defective,  both  impeller  and
armature must be replaced.
d. Visually check impeller D-drive. If flat edge of
"D" is curved or deformed, replace impeller.
e.
Measure impeller key slot width, dimension C.
Using  a  feeler  gage,  take  measurement  at  inside
edge of slot near the shaft bore. If key slot width
exceeds  0.067  inch  (1,70  mm),  replace  both  arma-
ture and impeller. The key slot width can also be
checked with a No. 50 drill. If shank of a No. 50
drill can be inserted into key slot, impeller slot is
worn. Replace both impeller and armature.
f. Inspect impeller seal face surface for wear. If sur-
face is worn dull or grooved, lap impeller as
instructed  in  REPAIR  procedures.
GO TO NEXT PAGE
Change 2
2-65