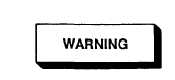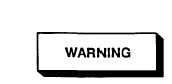 TM   55-2915-335-30&P
2-19.   IMPELLER   -   lNSPECT/REPAIR
2-19
This task covers: Repair of the impeller.
INITIAL  SETUP
Tools:
Materials/Parts:
Aircraft  Electrician's  Tool  Kit,  NSN  5180-00-323-4915
Cleaning  Cloth,  Nonwoven,  NSN  8305-00-753-2967
Caliper Set, Micrometer, Outside, 0 to 6 inch,
Dry Cleaning Solvent, NSN 6850-00-274-5421
NSN  5210-00-554-7134,  or  equivalent
600 grit, Wet or Dry Emery Paper
Vernier Caliper, Inside 0 to 6 inch,
NSN  6210-00-277-7549,  or  equivalent
Equipment
Condition:
Feeler Gage, NSN 5210-00-221-1999; or No. 50
Armature, field tube, and impeller removed from
Drill,  NSN  5133-00-189-9295;  or  equivalent
housing PARA 2-17
Personnel  Required:
68F Aircraft Electrician
1. CLEANING
Compressed air aimed at the skin can cause serious injury or death.
Wear goggles and never use over 30 psi (207 kPa) of compressed air
for  cleaning.
Cleaning solvent can be hazardous to your health. Use solvent only
in well ventilated areas. Avoid breathing solvent vapors. Do not use
solvent near an open flame or other source of high heat. Always wear
gloves,  apron,  and  goggles  when  using  cleaning  solvent.  Store  solvent
in approved metal container only.
Do not attempt to clean seal surface of impeller. Scrubbing of seal
surface may cause permanent damage.
a.
b.
Wash impeller with cleaning solvent (Item 7, Appendix C) using a nonwoven cloth (Item 1, Appendix C). Do
not use a brush or any rough material to scrub impeller seal surface.
Blow out impeller passages with compressed air, 30 psi (207 kPa) maximum. Direct air blasts from outer vents,
in toward center. Blow out each fluid passage. Rinse impeller in solvent and wipe dry with a clean cloth.
GO TO NEXT PAGE
2-64