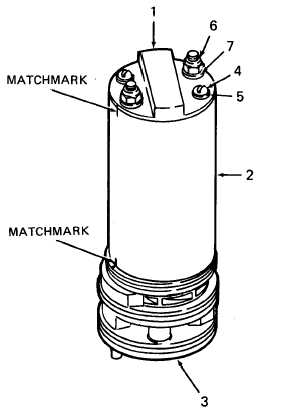 TM  55-2915-335-30&P
2-16.  MOTOR  COVER  -  lNSPECT/REPLACE
2-16
This task covers: Removal and installation of the motor cover. It also covers replacement of the motor cover bearing.
INITIAL SETUP
Tools:
Aircraft  Electrician's  Tool  Kit,  NSN  5180-00-323-4915
Bearing Installation Tool, See Appendix D
Reamer (Item 1, Appendix B, Section III)
Pin Punch, Straight, 5/16" Dia., NSN 5120-00-293-0793
Torque  Wrench,  30-150  in-lb,  NSN  5120-00-542-4489,
or equivalent
Press Arbor, Hand Operated, 1/2 Ton Pressure,
NSN  3444-00-243-2654,  or  equivalent
Brush, Soft Bristle, Cleaning
Drill Press, Bench Type, 1/2 inch capacity,
NSN  3413-00-529-0809,  or  equivalent
Plug  Gage,  Reversible,  Cylindrical
(Item 2, Appendix B, Section III)
Materials/Parts:
White  Petrolatum,  NSN  6505-00-133-8025
Dry Cleaning Solvent, NSN 6850-00-274-5421
Nut,  Self-Locking,  NSN  5310-01-210-7300
Personnel
Required:
68F Aircraft Electrician
68D  Aircraft  Powertrain  Repairer
66-Series  Technical  Inspector
Equipment
Condition:
Pump cartridge removed from pump and housing as-
sembly PARA 2-10
1.  REMOVAL
a.
b.
c.
d.
NOTE
To make sure that cartridge goes back
together correctly, matchmark the as-
sembly before loosening hex nuts. Do not
use  scribe  on  sealing  surfaces.
Matchmark motor cover (1) to field tube (2) with
scribe. Matchmark field tube (2) to cartridge hous-
ing (3).
Remove machine screws (4) and lockwashers (5).
Remove and throw away self-locking nuts (6).
Remove flat washers (7).
If cover bearing is chipped during cover
removal, chip may fall into motor. This
may  cause  binding  or  failure  of  pump
motor.
To  prevent  chipping  cover  bearing,  lift  motor
cover  (1)  straight  up  from  field  tube  (2).  Rocking
cover may cause bearing to chip.
GO TO NEXT PAGE
2-44