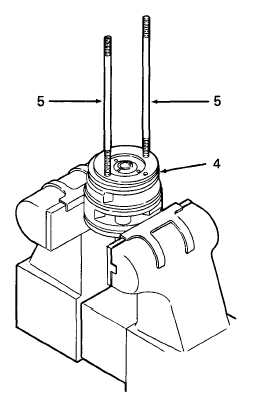 TM    55-2915-335-30&P
2-24.  IMPELLER  HOUSING  -  lNSPECT/REPLACE  (Cont)
2-24
b. Remove Mounting Stud
Always use plastic jaws or padding to hold
impeller housing in vise. Failure to use
soft  jaws  may  damage  the  impeller  hous-
ing.
(1)
(2)
Secure impeller housing (4) in vise. Use plas-
tic vise caps or leather in vise jaws to avoid
damage to housing. Do not over-tighten vise
jaws.
Thread locking compound was used to secure
mounting studs (5) in housing. Use a heat
gun to melt thread locking compound. Apply
300 to 400°F (185 to 240°C) hot air blast to
base of mounting stud.
Do not force mounting stud to turn in
impeller housing. Forcing stud may strip
out screw threads in housing.
(3)  Keep  heat  on  mounting  stud  (5).  Grip
smooth  surface  of  stud  with  slip  joint  pliers.
Apply light torque with pliers. Do not try to
force stud to turn. Be patient. When locking
compound gets hot enough, the stud will turn
easily.
GO TO NEXT PAGE
2-88