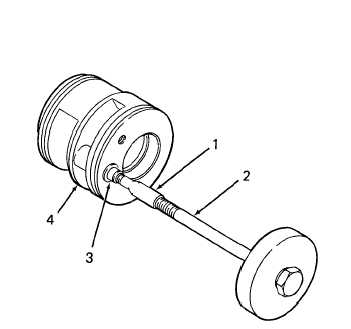 TM    55-2915-335-30&P
2-24.   IMPELLER   HOUSING   -   lNSPECT/REPLACE
2-24
This task covers: Replacement of primary lead terminal and studs. It also covers repair of the housing.
INITIAL SETUP
Tools:
Aircraft  Electrician's  Tool  Kit,  NSN  5180-00-323-4915
Cartridge Pulling Tool, Item 4, Appendix D
Pull Tool Adapter, #6-32, Item 2, Appendix D
Tap,  Thread  Cutting,  NSN  5136-00-555-8096
Press, Arbor, Hand Operated, 1/2 Ton Pressure,
NSN  3444-00-243-2654,  or  equivalent
Brush,  Soft  Bristle,  Cleaning
Heater Gun, 200 to 500 deg. F, NSN 4940-00-785-1162
Vise, Machinist's, 4 inch Jaw, NSN 5120-00-293-1439,
or equivalent
Cap, Vise Jaw, Plastic, NSN 5120-00-221-1506,
or equivalent
Soldering  Iron,  NSN  3439-00-853-8760,  or  equivalent
Material/Parts:
Thread  Locking  Compound,  NSN  8030-00-148-9833
Thread  Locking  Compound,  NSN  8030-00-180-6222
Cleaning  Cloth,  Nonwoven,  NSN  8305-00-753-2967
Dry  Cleaning  Solvent,  NSN  6850-00-274-5421
Solder, Rosin Core, QQ-S-571E
Electrical Wire, 18 AWG,
NSN
500 or 600 Grit, Wet or Dry Emery Paper
Personnel  Required:
68F Aircraft Electrician
66-Series Technical Inspector
68D  Powertrain  Repairer
Equipment  Condition:
Electrical wiring removed from housing PARA 2-23.
1. REMOVAL
NOTE
Remove  and  replace  defective  com-
ponents only.
a.  Remove  Positive  Terminal  Assembly
(1) Install pull tool adapter (1) (Figure 2, Ap-
pendix D) on cartridge pulling tool (Figure 4,
Appendix D).
(2)
Thread adapter (1) of pulling tool into ter-
minal assembly (3). Hold impeller housing
(4) firmly in one hand. Slide hammer of pull-
ing tool adapter (1) against bolt head to force
terminal assembly (3) from impeller housing.
GO TO NEXT PAGE
2-87