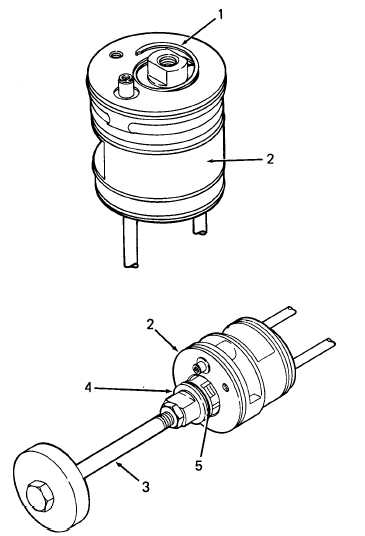 TM   55-2915-335-30&P
2-21.  PUMP  COVER  AND  INLET  SEAL  -  lNSPECT/REPAIR/REPLACE
2-21
This task covers: Replacement of pump cover and repair of inlet seal.
INITIAL SETUP
Tools:
Aircraft  Electrician's  Tool  Kit,  NSN  5180-00-323-4915
Cartridge Pulling Tool, Item 4, Appendix D
Caliper Set, Micrometer, Outside, 0 to 6 inch,
NSN  5210-00-554-7134,  or  equivalent
Equipment
Condition:
Armature, field tube, and impeller removed from
housing PARA 2-18 (See NOTE below)
Materials/Parts:
Dry Cleaning Solvent, NSN 6850-00-274-5421
White  Petrolatum,  NSN  6505-00-133-8025
Cleaning  Cloth,  Nonwoven,  NSN  8305-00-753-2967
500 or 600 Grit, Wet or Dry, Emery Paper
Preformed  Packing  (2req)  NSN  5330-00-807-9638
Personnel
Required:
68F Aircraft Electrician
1. REMOVAL
a.
b.
Remove retaining ring (1) from seat in impeller
housing  (2).
Do  not  use  metal  tool  to  remove
preformed  packing  from  packing  groove.
Metal  probe  or  screwdriver  may  score
packing  groove.
NOTE
If pump cover seal is leaking, the seal may
be  replaced  without  disassembling  the
pump cartridge. If only replacing cover
seal, keep pump cover and impeller hous-
ing pointed up to keep impeller from
dropping off of shaft.
Screw cartridge pulling tool (3) (Item 4, Appendix
D) into pump cover (4). Slide pulling tool slide ham-
mer against bolt head to remove pump cover from
housing (2). Unscrew pump cover from pulling tool.
Remove and discard performed packing (5), Use
plastic or wood probe to remove packing.
GO TO NEXT PAGE
2-72