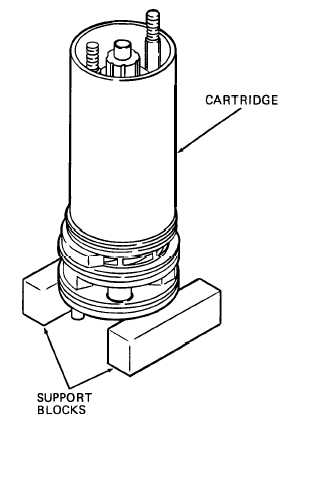 TM  55-2915-335-30&P
2-18.  ARMATURE  AND  FIELD  TUBE  ASSEMBLY  -  lNSPECT/REPLACE
2-18
This task covers: Removal and replacement of armature, field tube, and impeller.
INITIAL SETUP
Tools:
Materials/Parts:
Aircraft  Electrician's  Tool  Kit,  NSN  5180-00-323-4915
Cleaning  Cloth,  Nonwoven,  NSN  8305-00-753-2967
Brush, Soft Bristle, Cleaning
Dry Cleaning Solvent, NSN 6850-00-274-5421
Caliper Set, Micrometer, Outside, 0 to 6 inch,
600 Grit, Wet or Dry Emery Paper
NSN  5210-00-554-7134,  or  equivalent
Multimeter,  NSN  6625-00-168-0585,  or  equivalent
Personnel
Required:
Feeler Gage, NSN 5210-00-221-1999; or No. 50
68F Aircraft Electrician
Twist  Drill,  NSN  5133-00-189-9295;  or  equivalent
66-Series Technical Inspector
Equipment  Condition:
Cover-end brush holder assembly removed from
cartridge PARA 2-17
1.  REMOVE  FIELD  TUBE
a. Place cartridge in upright position. Use support
blocks  under  cartridge  to  keep  terminal  off  of
work surface.
GO TO NEXT PAGE
2-54