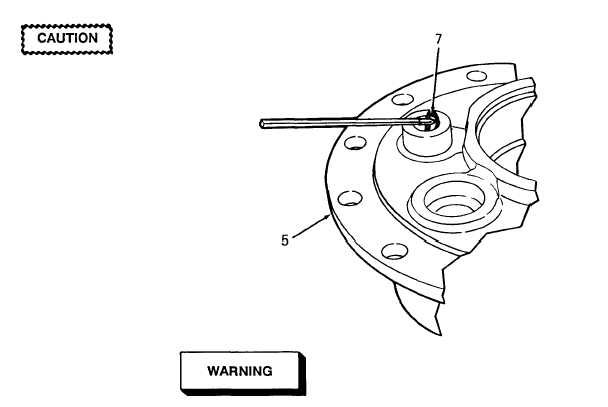 TM    55-2915-335-30&P
2-14.  INLET  SHUTOFF  VALVE  -  lNSPECT/REPLACE  (Cont)
2-14
Do  not  use  metal  probe  to  remove
preformed  packing  from  valve  stem  bore.
Scratching or scoring valve stem bore may
cause pump to leak fuel.
d. Remove preformed packing (7) from valve stem
bore in pump housing (5). Use sharpened lead
pencil, toothpick, or plastic probe to remove pack-
ing from seat. Do not use any metal probe that
might  score  packing  seat.
2. CLEANING
Compressed air aimed at the skin can cause serious injury or death.
Wear goggles and never use over 30 psi (207 kPa) of compressed air
for  cleaning.
Cleaning solvent can be hazardous to your health. Use solvent only
in well ventilated areas. Avoid breathing solvent vapors. Do not use
solvent near an open flame or other source of high heat. Always wear
gloves,  apron,  and  goggles  when  using  cleaning  solvent.  Store  solvent
in approved metal container only.
a. Wash pump housing and valve parts in dry cleaning solvent (Item 7, Appendix C).
b. Blow-dry valve stem bore with compressed air, 30 psi (207 kpa) maximum.
GO TO NEXT PAGE
2-37