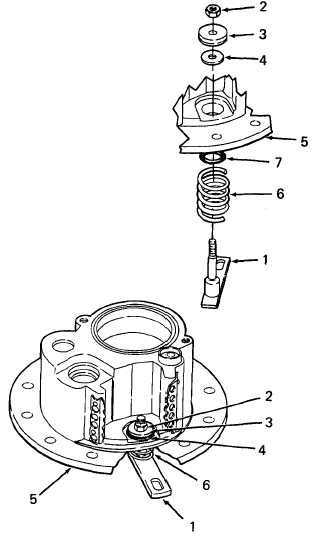 TM  55-2915-335-30&P
2-14.  INLET  SHUTOFF  VALVE  -  lNSPECT/REPLACE
2-14
This task covers Inspection and replacement of inlet shutoff valve.
INITIAL SETUP
Tools:
Aircraft  Electrician's  Tool  Kit,  NSN  5180-00-323-4915
Square,  Combination,  NSN  5210-00-078-8949,
or equivalent
Torque  Wrench,  30-150  inch  lb.,
NSN  5120-00-542-4489,  or  equivalent
Personnel  Required:
68F Aircraft Electrician
Material/Parts:
Cleaning  Cloth,  Nonwoven,  NSN  8305-00-753-2967
Dry Cleaning Solvent, NSN 6850-00-274-5421
White  Petrolatum,  NSN  6505-00-133-8025
500 or 600 grit, wet or dry emery paper
Self Locking Nut, NSN 5310-00-934-9747
Preformed  Packing,  NSN  5330-00-248-3836
Equipment  Condition
Canister removed from pump housing PARA 2-11
1. REMOVAL
a.
b.
c.
Hold arm of valve stem assembly (1) and remove
self-locking  nut  (2).
Remove seal disk assembly (3) and washer (4)
from  valve  stem.
Remove valve stem assembly (1) from pump hous-
ing  (5).  Remove  spring  (6).
GO TO NEXT PAGE
2-36