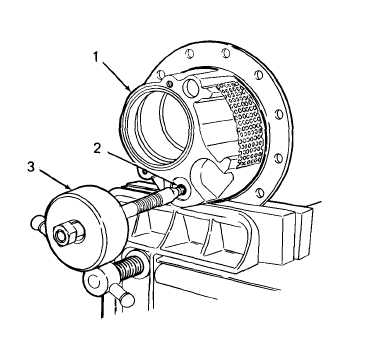 TM    55-2915-335-30&P
2-13.  BYPASS  VALVE  -  REPLACE
2-13
This task covers: Removal and replacement of bypass valve.
INITIAL SETUP
Tools
Material/Parts:
Aircraft  Electrician's  Tool  Kit,NSN  5180-00-323-4915
Cleaning  Cloth,  Nonwoven,  NSN  8305-00-753-2967
Drill, Hand Electric, 1/4 Inch Size,
Dry  Cleaning  Solvent,  NSN  6850-00-274-5421
NSN  5130-00-889-8994,  or  equivalent
500 or 600 grit, wet or dry emery paper
Twist Drill, No. 4, NSN 5133-00-189-9249
Tape
Die  And  Tap  Set,  NSN  5136-00-357-7504
Disk, Solid, NSN 2040-01-170-6502
Cartridge Pulling Tool, Item 4, Appendix D
Nylon Ball, NSN 2040-01-170-6502
Pulling Tool Adapter, Item 3, Appendix D
Cold Chisel, 1/4 Inch Cut, NSN 5110-00-234-1927
Equipment
Condition:
Press Arbor, Hand Operated, 1/2 Ton Pressure,
Canister removed from pump housing PARA 2-11
NSN  3444-00-243-2654,  or  equivalent
Center  Punch,  NSN  5120-00-223-1015
Personnel
Required:
68F  Aircraft  Electrician
68D  Powertrain  Repairer
1. REMOVAL
a.
b.
c.
d.
e.
Plug all open ports in pump housing (l). Clean
rags can be used as packing material. Cover small
openings  with  tape.
Always use plastic jaws or padding to hold
pump housing in vise. Failure to use soft
jaws  may  damage  the  housing.
Secure flange of pump housing in soft-jawed vise.
Support  housing  by  mounting  near  the  bypass
valve port, as shown.
Using a center punch, lightly punch drill starting
point at about center of solid disk (2).
Use a number 4 drill bit and drill through center
of solid disk (2). Gently drill until drill bit just
breaks through disk. Tap hole with 1/4-28 tap.
Install pull tool adapter (Figure 3, Appendix D)
on  cartridge  pulling  tool  (Figure  4,  Appendix  D).
Thread pulling tool (3) into port plug solid disk
(2). Slide hammer of pulling tool against bolt head
to remove disk. Remove and discard port plug
disk.  Remove  nylon  ball  from  pump  housing.
GO TO NEXT PAGE
2-33