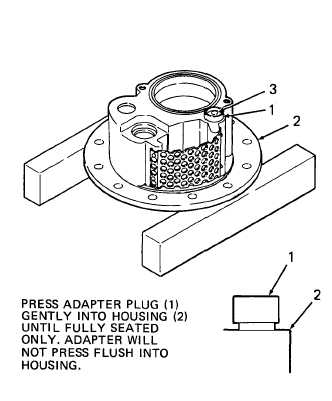 TM  55-2915-335-30&P
2-12.  VAPOR  BLEED  VALVE  -  lNSPECT/REPLACE  (Cont)
2-12
4.  INSTALLATION
a.
b.
c.
d.
e.
Lubricate stem of umbrella check valve  

(3)

with
petrolatum (Item 6, Appendix C).
Gently pull umbrella stem and bulb through cen-
ter hole of adapter plug (1). Be careful not to
break stem from umbrella. Check that umbrella
lies  flat  against  bleed  holes  in  adapter  plug.
Place housing support block close to valve
bore  when  pressing  adapter  plug  (l).
Failure to place support blocks correctly
may lead to warping of housing mounting
flange.
Place pump housing (2) on hand operated arbor
press. Use parallel blocks under the pump mount-
ing  flange  to  support  housing.
Apply locking compound (Item 5, Appendix C) to
adapter plug (1). Place one drop on beveled edge
of  insert  sleeve.
Adapter plug must be pressed straight
into plug seat. If adapter plug is allowed
to tilt, damage may result to both the
adapter  plug  and  valve  bore.
Position adapter plug (1) over seat in pump hous-
ing (2). Bring arbor down to meet adapter plug,
Square top edge of adapter plug with arbor face.
Gently press adapter plug into bore until fully
seated.
NOTE
FOLLOW-ON  MAINTENANCE:  Install  canister  on  pump  housing
(paragraph 2-11).
END  OF  TASK
2-32