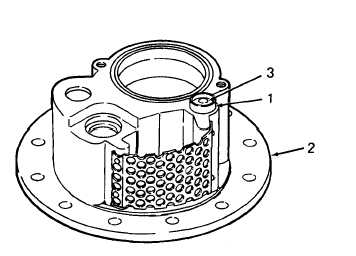 TM    55-2915-335-30&P
2-12.  VAPOR  BLEED  VALVE  -  lNSPECT/REPLACE
2-12
This task covers Inspection and replacement of the vapor bleed valve.
INITIAL SETUP
Tools:
Material/Parts:
Aircraft  Electrician's  Tool  Kit,  NSN  5180-00-323-4915
Thread  Locking  Compound,  NSN  6505-00-133-8025
Press Arbor, Hand Operated. 1/2 Ton Pressure, NSN
Cleaning  Cloth,  Nonwoven,  NSN  8305-00-753-2967
3444-00-243-2654,  or  equivalent
White  Petrolatum,  NSN  6505-00-133-8025
500 or 600 grit, wet or dry emery paper
Personnel
Required:
Dry  Cleaning  Solvent,  NSN  6850-00-274-5421
68F Aircraft Electrician
Umbrella  Check  Valve,  NSN  4510-01-170-5681
68D  Powertrain  Repairer
Equipment  Condition:
Canister removed from pump housing PARA 2-11
1. REMOVAL
Do not replace umbrella check valve
without  removing  vapor  bleed  valve
adapter  plug  from  pump  housing.  Pulling
umbrella check valve without removing
adapter plug may lead to pump failure
due to vapor bleed hole blockage.
a.
b.
Use a screwdriver with cloth or other padding
over the blade. Keep screwdriver blade fully under
shoulder  of  adapter  plug.  Be  careful  not  to
damage adapter plug or housing. Pry a little on
one side, then the other to remove adapter plug
(1) from pump housing (2).
Remove  and  discard  umbrella  check  valve  (3).
GO TO NEXT PAGE
2-29