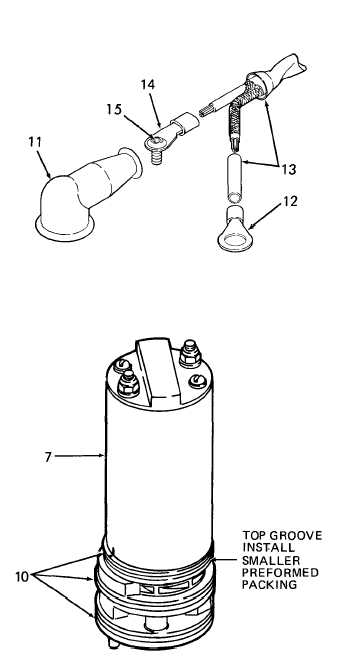 TM  55-2915-335-30&P
2-10.  PUMP  AND  HOUSING  ASSEMBLY  -  lNSPECT/REPLACE/REPAIR   (Cont)
2-10
3.  INSPECT/REPAIR  CABLE  ASSEMBLY
a.
b.
c.
d.
Remove insulator boot (11) from positive lead.
Visually inspect insulator boot (11) for cuts, crack-
ing, or other damage. Replace damaged boot.
Using  a  multimeter,  check  for  continuity  between
lug  terminal  (12),  and  end  of  white  negative  wire
lead. If open, replace ground wire terminal and
heat shrink tube (13) (Item 1, Appendix B, Bulk
Items  List).  Crimp  both  cable  shield  wire  and
ground wire in new lug terminal (12).
Using  multimeter,  check  between  terminal  (14)
and end of black positive wire lead. If open, re-
place terminal (14).
Check general condition of all wiring. If wiring or
heat-shrink tubing is cracked, broken, or other-
wise damaged, repair as necessary.
4. INSTALLATION
a.
Apply a thin coating of petrolatum (Item 6, Ap-
pendix  C)  to  preformed  packings  (10).  Install
smaller preformed packing into top groove, and
remaining packings in lower two grooves in
cartridge  (7).
GO TO NEXT PAGE
2-23