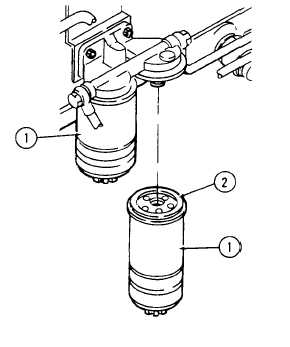 TM 5-4320-306-24
2-30.  REPLACE FUEL FILTER CARTRIDGES
This task covers:
a.
Removal
b.
Installation
INITIAL SETUP
Tools
Materials/Parts
Shop equipment, automotive maintenance
Diesel fuel oil (Item 6, Appendix C)
and repair, common no. 1
Tool kit, general mechanics automotive
REMOVAL
Remove fuel filter cartridges (1).  Rotate counter-clockwise to remove.  Discard cartridges
INSTALLATION
WARNING
Death or serious injury could occur if diesel fuel oil is not handled carefully.  Use in a well-ventilated area
away from open flame, arcing equipment, ignition sources, heaters, or excessive heat.  Always store fuel
in proper, marked containers.  DO NOT SMOKE.
Fill  each  new  fuel  filter  cartridge  (1)  2/3  full  with  diesel  fuel  oil  and  coat  top  ring  (2)  Install  by  rotating  fuel  filter
cartridge (1 ) clockwise Tighten hand tight.
2-107