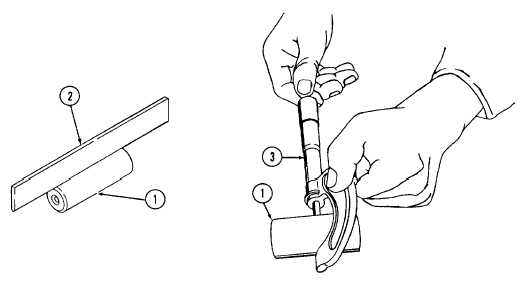 TM 5-4320-305-24
4-10. REPLACE/REPAIR PISTON ASSEMBLY (Continued)
WARNING
Dry    cleaning    solvent    P-D-680    (safety    or    Stoddard's
Solvent)  is  potentially  dangerous.  Avoid    repeated  and
prolonged breathing of vapors and skin contact with the
liquid. Do not use near open flame, arcing equipment, or
other  ignition  sources.  Always  wear  eye  protection  and
protective clothing.
The flash point of P-D-680 is 1000 to 1380F (38°  to 590C).
Death  or  serious  injury  could  occur  if  compressed  air  is
directed  against  the  skin.  Do  not  use  compressed  air  for
cleaning    or    drying    unless    the    pressure    is/has    been
reduced to 30 psi (2.11 kgcm2) or less. When working with
compressed  air  always  use  chip  guards,  eye  protection,
and other personal protective equipment.
11  If any axial ring clearance measurements are smaller than the minimum values given above, piston ring
grooves may be clogged with carbon deposits. Reclean piston with dry cleaning solvent and wire brush.
Dry  with  compressed  air.  Take  measurements  again.  If  still  smaller  than  minimum  values,  piston  is
damaged or defective. Replace piston.
CAUTION
Small-end bushing in connecting rod may be damaged
if piston pin is refinished. Do not refinish highly
polished or lapped piston pin surface.
12  Inspect piston pin (1) for scoring, fretting, pitting, or indications of overheating. If damaged, replace
piston pin.
13  Measure piston pin (1) for wear and check alinement. Measure alinement with beveled steel straightedge
(2). This measurement will also indicate relative wear along the piston pin. Measure diameter of piston
4-76