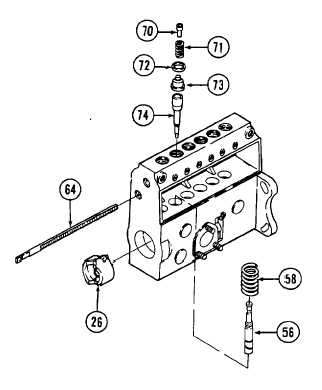 TM 5-4320-305-24
4-4.  REPAIR INJECTION PUMP (Continued)
5      Inspect   six   pistons   (56)   and   six   plungers   (74)   for
scratches,   nicks,   and   grooves.      Dip   each   mating
plunger  and  barrel  in  clean  calibrating  fluid.    Place
piston  in  plunger.    Hold  parts  vertically  and  position
about 3/4 of plunger length in piston.  Release  plunger
into  barrel.   Plunger must  slide smoothly into barrel
until it reaches the stop.  If part fails inspection replace
mating barrel and plunger as an assembly.
6    Inspect  six  delivery  valves  (73)  and  six  fillers  (70)  for
cracks or grooving.  Inspect delivery valve for crushed
or  unevenly  worn  seats.    Insert  each  filler  into  mating
delivery  valve  and  inspect  for  freedom  of  movement.
If  either  part  is  damaged,  replace  both  filler  and  its
mating delivery valve.
7  Inspect six piston springs (58) for damage to protective
coating, cracks, or permanent set.  Replace damaged
spring.
8    Inspect  rod  (64)  for  chipping,  cracks,  or  worn  gear
teeth.    Remove  slight  grooving  using  crocus  cloth.    If
otherwise damaged, replace rod.
9    Inspect  flyweight    (26)  for  damaged    or  worn  rollers,
pivot pins, and weights.  If damaged, replace flyweight
as an assembly.
10  Inspect all other parts for cracks, distortion, uneven wear, or heavy grooving.  Inspect all threaded parts for damage
to threads.  Replace damaged part.
ASSEMBLY:
1
Install two rings (79) into housing.
2
Install threaded ring (78).
3
Install guide bushing (77) using ring wrench KDEP 2961.
4
If new rings (79) were installed, ream rings using bushing reamer KDEP 2999.  Remove all chips created by
reaming operation.
5  Place together the following parts tagged as belonging to bore number one during disassembly: pipe connection (68),
filler (70), spring (71), delivery valve (73), and plunger (74).  Install parts as follows:
a.  Lower plunger (74) into housing bore number one.  Aline groove in plunger with pin in housing.
b.  Install delivery valve (73) into bore and onto plunger.
c.  Install a new sealing washer (72).
4-17