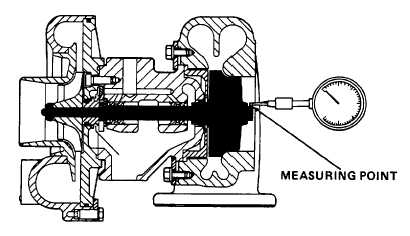 TM 5-4320-305-24
3-16.
REPAIR TURBOCHARGER (Continued)
2
Check radial clearance.
a.
Fasten dial gage to turbine casing.
b.
Position dial gage on side of rotor shaft as close to end as possible.
c.
Push shaft down and record reading.
d.
Push shaft up and record reading.
e.
The difference between readings is the radial clearance.  Maximum clearance allowable is 0.0255 inch (0.65
mm).
DISASSEMBLY:
1
Matchmark positions of compressor housing (1), bearing housing (2), and turbine housing (3) with a
punch or scribe to aid assembly.
2
Remove nut (4), bolts (5 and 8), lockwashers (6 and 9), and clamp plates (7 and 10).
3-73