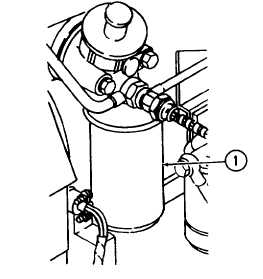 TM 5-4320-305-24
3-8.
REPLACE LUBE OIL COOLER/REPLACE LUBE OIL FILTER (Continued)
OPERATIONAL CHECK:
WARNING
Touching exhaust system during test can cause severe burns.
CARBON MONOXIDE (EXHAUST GAS) CAN KILL YOU Exposure to
exhaust gases produces symptoms of headache, dizziness, loss of
muscular  control,  drowsiness,  or  coma.    Brain  damage  or  death
can result from severe exposure.
Fumes  from  engines  become  concentrated  with  poor  ventilation.
Operate engine in a ventilated area only.
While running engine, be alert for fumes.  If someone is overcome,
expose to fresh air; keep warm and still; give artificial respiration if
needed.  Seek medical attention.  Administer oxygen, if available.
GOOD VENTILATION IS THE BEST DEFENSE AGAINST EXHAUST
POISONING.
Start engine and check for oil leaks around lube oil cooler and lube oil lines.  Tighten banjo bolts, hose clamps, hose
clips,  and  mounting  hardware  as  necessary.    Check  for  fuel  leaks  around  injection  lines  and  fuel  lines.    Tighten
connections as necessary.
LUBE OIL FILTER SERVICE:
1
Rotate lube oil filter (cartridge) (1) counterclockwise to remove.
Discard filter.
2
Coat gasket of new filter with clean lubricating oil.
3
Rotate lube oil filter (cartridge) (1) clockwise to install.
4
Tighten hand tight.
3-41