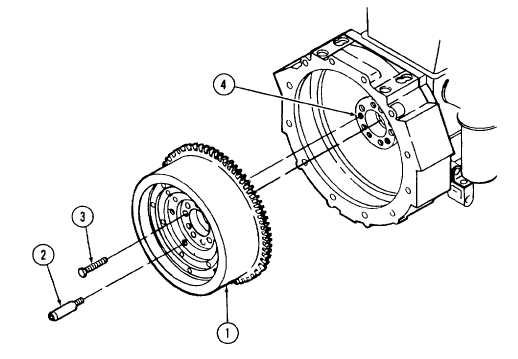 TM 5-4320-305-24
3-7.
REPLACE/REPAIR FLYWHEEL
This task covers:
a.  Removal
c.  Repair
b.  Cleaning/Inspection
d.  Installation
INITIAL SETUP
Tools
Equipment
Condition
Shop set, automotive repair, field
Para
Condition Description
maintenance, basic
Engine shut down and cool.
Tool kit, master mechanics
3-4
Pump assembly removed from
engine.
Materials/Parts
3-23
Adapter housing removed.
Diesel fuel oil (Item 6, Appendix C)
Special Environmental Conditions
Well-ventilated area required for cleaning.
REMOVAL:
1
Restrain flywheel (1) and remove drive pins (2) from flywheel.
2
Restrain flywheel (1) and remove bolts (3).
3
Remove flywheel (1) from crankshaft (4).
3-34