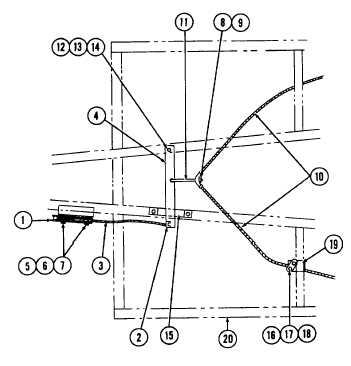 TM 5-4320-305-24
2-45.  REPLACE/REPAIR WHEEL BRAKES
This task covers:
a.
Removal/Disassembly
c.
Assembly/Installation
e.
Adjustment
b.
Inspection/Repair
d.
Bleeding Hydraulic Lines
INITIAL SETUP
Tools
Materials/Parts
Shop equipment, automotive maintenance
Brake fluid (Item 4, Appendix C)
and repair, common no. 1
Grease (Item 8, Appendix C)
Tool kit, general mechanics automotive
Lubricating oil (Item 10, Appendix C)
REMOVAL/DISASSEMBLY:
1
Lower front and rear jack assemblies and be sure that trailer frame is securely level.
2
Place  hand  brake  (1)  in  upright  position  so  that
parking brakes are not engaged.
3
Remove  nut  (2)  from  hand  brake  cable  (3)  and
crossmember (4).
4
Remove two mounting bolts (5), two nuts (6), and
two lockwashers (7).  Remove hand brake (1).
5
Remove cotter pin (8) and nut (9).  Remove brake
cable  (10)  from  J-bolt  (11).    Remove  J-bolt  from
Crossmemher (4).
6
Remove     shoulder     bolt     (12),     nut     (13),     and
lockwasher    (14).        Pull    the    crossmember    (4)
through slide (15).
7
Remove  two  cap  screws  (16),  two  nuts  (17),  and
two   lockwashers   (18).      Remove   angle   brackets
(19) and brake cable (10) from trailer frame (20).
8
Remove wheels and tires.
a.
Position  jack  under  frame  just  in  front  of  wheel
to be raised.
b.
Loosen six wheel nuts slightly.
c.    Using   jack,   raise   frame   high   enough   to   allow
removal of tire and wheel.
d.  
2-171