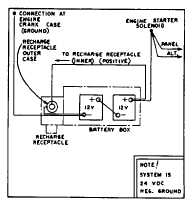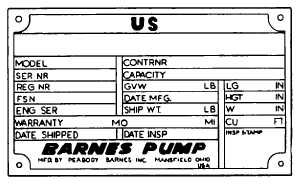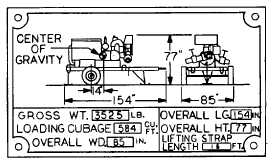 TM 5-4320-305-24
1-9.  LOCATION AND DESCRIPTION OF INSTRUCTION AND WARNING PLATES (Continued)
i.
Battery  circuit  plate.

  

  

Located   inside   the   battery
box.  Shows battery circuit flow and connections.
j.
Pump   identification   plate.

  

  

Located   on   the   front
right  side  of  the  trailer.    It  provides  the  pump  and
engine  identification  numbers,  pump  dimensions,
weight, and shipping information.
k.
Transportation plate.

 

Located on the front left side
of   the   trailer.      It   provides   shipping   information:
gross   weight;   loading   cubic   feet;   overall   width,
length, and height; and required lifting strap length.
It  includes  a  diagram  of  the  centrifugal  pump  unit
that  shows  the  overall  dimensions  and  center  of
gravity.
1-7