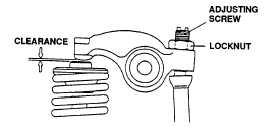 TM 10-4320-311-14
Figure 4-35.  Adjusting Valve Clearance
g.
Insert 0.006 inch (0.15 mm) feeler gauge between valve rocker arm and top of the valve spring cotter.
h.
While turning the adjusting screw clockwise, slowly slide the feeler gauge back and forth.  Stop turning adjusting
screw when slight resistance is felt on the feeler gauge.
i.
Remove feeler gauge and tighten locknut.  Keep screwdriver inserted into adjusting screw to prevent adjusting
screw from turning.
j.
Verify valve clearance of 0.006 inch (0.15 mm) after completion.
k.
Repeat on both intake and exhaust valves.
I.
After securing both locknuts, check that clearance is still 0.006 inch (0 15 mm).
INSTALLATION: Refer to Figure 4-33.
Replace valve rocker arm assembly cover (2) with new gasket and secure with two bolts (1).
4-66